THE THREE PILLARS
of our success
THE THREE PILLARS of sustainability: Our environmental, economic, and social performance is an integral part of our corporate philosophy. Because every individual is important. Environmental protection, a responsible use of resources and a close collaboration are the basis of our success as a family business – today and in the future.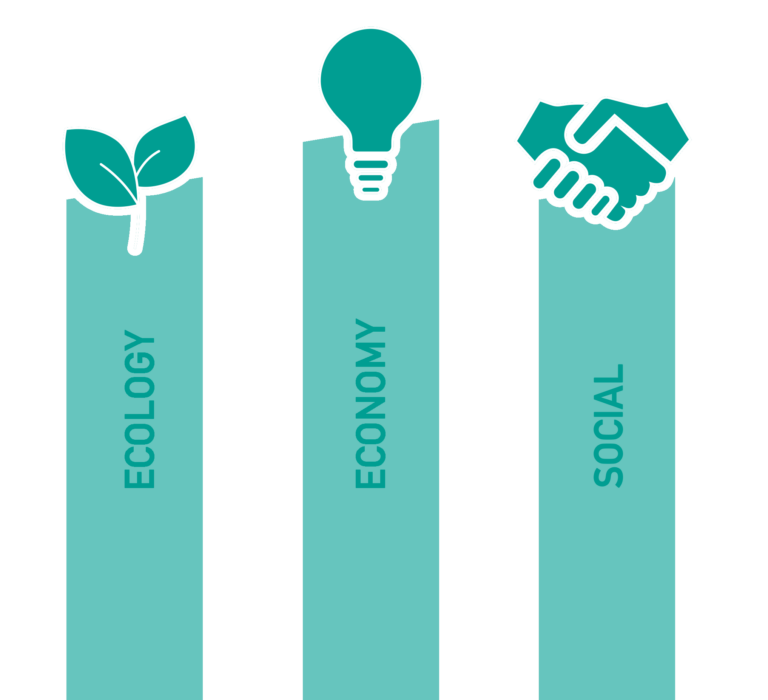 THE THREE PILLARS of our Success: Quality, Environment and Energy
We use our integrated management system for quality, environment, energy and safety as a means of achieving continuous improvements in our performance and all our activities.
The awareness of our employees surrounding quality and environmental issues is promoted and they are actively involved in the implementation of the guidelines.
The deciding factor in the implementation of business policy is exemplification through the management structure. The management team and every manager in the company orientate his/her daily activities according to the stated business policy.
The quality of our products and services is our primary objective. The clear focus on quality and customer benefit is an essential element for our success.
Our highly qualified employees ensure a constantly high level of quality our products for our customers.
In order to maintain and safeguard these principles, we have introduced a quality management system in accordance with DIN EN ISO 9001. This is continuously monitored through internal and external audits.
Observance of the following quality principles constitutes the basis of our management system:
Customer satisfaction is always the focus of our business activities.
The customer determines the standards for the quality of our products and services. His judgement is the decisive factor.
The quality of our products and services has to meet the agreed specifications, as well as the expectations of our customers.
We gain the confidence of our partners through our competent, reliable and appropriate action.
We want to continuously improve our products and services in order to create highest benefit for our customers.
Download Certificate ISO 9001:2015
REACH stands for the Registration, Evaluation and Authorisation of Chemicals.
This will change the present regulations in the EU dramatically. REACH is a framework to improve regulatory information of substances. Within REACH, all chemicals manufactured/imported into the EU in quantities above 1 to per year need to be registered. Only chemicals that are invented after 1983 and are regulated as new chemicals are exempted since the knowledge about their hazards and risks is good enough.
Depending on the whole yearly manufactured and traded amounts of the individual substance the registration has to be done in different time frames. Quantities exceeding 1000 to/a the deadline was on 1st December 2010, quantities within 100 and 1000 to/a it was on 1st June 2013 and quantities below 100 to/a it will be 1st June 2018. Within this time frame information about risks and hazards have to be determined by the manufacturer and to be informed to the Chemicals Agency in Helsinki (ECHA). If a substance > 1 to is not registered by the manufacturer or importer, it is not allowed to be used or marked.
Only substances in the manner of REACH have to be registered. This excludes e.g. polymers and natural products.
Mixtures like masterbatches and compounds are excluded, too.
ARGUS Additive Plastics GmbH is a manufacturer of masterbatches for the plastic processing industry.
All ingredients of the products supplied by ARGUS Additive Plastics GmbH comply with the REACH regulation 1907/2006 (REACH), since all ingredients are either
excluded from the Regulation, and/or
exempted from registration, and/or
have been pre-registered and/or have been registered by our suppliers in its above mentioned registration deadlines.
As a supplier of mixtures which are not classified as dangerous in accordance with Regulation (EC) no. 1272/2008 [CLP], we have to provide our customers with a safety data sheet upon request if the mixtures contain at least one substance from the candidate list of substances causing particular concern (SVHC), and where the individual concentration is at least 0.1% (w/w) in the case of non-gaseous preparations.
On request, our product safety team will be happy to provide you with a separate REACH/SVHC statement concerning the products related to you.
ARGUS Additive Plastics GmbH always uses tested and authorised raw materials from well-known suppliers. All of the raw materials which are used are supplied with up-to-date documentation from our suppliers, on the basis of which, we then derive safety and legal requirements that are placed on our products.
In so doing, ARGUS has set itself the requirement of not storing or processing any raw materials on the operating site that are classified and labelled as acutely toxic in accordance with the CLP regulation (hazard category 1,2,3 - GHS06).
Upon request, our in-house department 'Product Safety – Technical/Regulatory Documentation' will check all of the relevant legal requirements that are placed on your products and as such, indirectly on our products as well.
We are happy to provide you with safety data sheets for our master batches in accordance with the latest CLP regulation (EC) 1272/2008, technical data sheets, as well as food safety declarations in accordance with EU Regulation no. 10/2011, Swiss Ordinance on Materials and Articles as well as the US FDA – even at the stage when samples are inspected.
If you have any queries, please do not hesitate to contact us.
As our production services are very energy-intensive we undertake to reduce the energy input in the long term and to improve our energy efficiency continuously.
Based on the systematic analysis of the energy consumption and the energy input we evaluate our processes and develop concepts for saving energy.
Our suppliers are generally informed that the procurement of energy-consuming components also depends on energy efficiency.
For the systematic implementation of our energy policy, we have introduced an energy management system in accordance with DIN EN ISO 50001. This is continuously monitored by internal and external audits.
Download Certificate ISO 50001:2018
We are convinced that environmental protection has to be consequently lived out and that it is an important component of our long-term business success. Therefore we strive to minimise the influence of our company on the environment.
Concerning the protection of the environment, we take responsibility for all our products, services and other business activities, as well as those of our suppliers and service providers insofar as they relate to our business activities.
The observance of any official requirements regarding the environment is one of our basic demands in terms of environmental protection.
Our actions are based on the following principles:
The prevention of environmental pollution, energy waste, accidents and diseases has a high priority in all procedures.
Observance of applicable environmental regulations and binding obligations, as well as other requirements with regard to energy input, consumption and efficiency
Continuous and systematic improvement of the environmental performance of our company
Minimisation of the consumption of energy, water and resources
Reduction of waste, emissions and by-products
Our procurement processes are focused on products, equipment and services, which are ecologically harmless, socially fair and energy-efficient
Recycling of production waste to the greatest possible extent
To ensure the efficient observance of our environmental policy we implement an environmental management system in accordance with DIN EN ISO 14 001. This is continuously developed through internal and external audits.
 Download Certificate ISO14001:2015
Competentia NRW awards ARGUS the "family-friendly company" seal of approval for special family-friendly personnel policies in 2021. This recognizes the company's commitment to making it possible to combine family and career.
ARGUS is committed to helping men and women alike successfully return to work, whether it be for childcare or to care for relatives.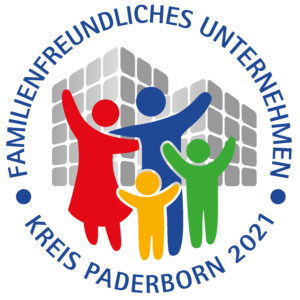 IK-Initiative "Zero Pellet Loss"
The protection of the environment and the careful use of valuable resources is an important concern for us. That is why we have joined the "zero granulate loss" initiative which has been launched by our industrial association IK. The aim of this initiative is to prevent plastic granulate from finding its way into the environment or the sewage system, and then finding it again on coasts and in the sea.
Please find our certificate in the following pdf file: